Iiyama Vision Master Pro 514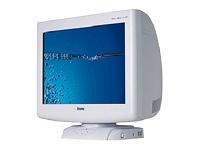 This monitor is one of the best! If your like me and like gaming and watching dvd's on your computer i would definately recommend this monitor. If you use your pc for surfing the web and word processing, then this monitor is probably a bit to much for what you need. Although this monitor has great refresh rates which makes it easy on the eyes for word processing and internet surfing.
Although these sort of monitors are best for are gaming. This is because it has really high resolution which is how many pixels are on the screen. Also the refresh rates are extremly high, which not only means its easier on the eyes but in gaming refresh rate also means fps. This is how many times the screen refreshes per second (frames per second). Because this monitor has a high refresh rate it makes playing games alot better because the fps can be higher which makes the game smoother. Definate recomend for gamers and recomend for people using the PC for hours on end.