IIyama Vision Master Pro 454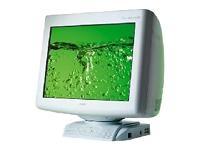 This is the best monitor i have ever had, i've had it for about 2-3 years now, and i don't look to be selling it to buy a TFT or another CRT. Everything is crystal clear and very sharp! Games Play like a dream because of the cripsness of it.
I currently use a screen resolution of 1600x1200 and it handles it very well even at 120hz. The screen is completly flat, there is a usb hub connected at the side of the monitor, this is very handy if you run out of USB slots on your motherboard like i do! This monitor also has speakers built into it just incase you really need to hear something (i have never used them before, but i can imagine that they are probably not the best things in the world!)
One disadvantage in my opinion would be that there are two very thin horizontal lines going across the screen (one near the top, and one near the bottom). I've been told that this is because of the flat screen instead of the usual curved CRT look. This downfall is only really noticable if you are, a) looking for it, or b) if a completly white background is present!
The weight is also a downfall if you have to move around a lot, i went to a lan once and took this monitor with me, never again! It was a pain in the backside to get it downstairs, into the car then out the car at my destination and into the LAN area! As well as it taking up most of the desk, looks swish though!
Overall i'd recommend this montior over most CRT's, having never owned a TFT, i couldn't say if it'd be better, but i believe unless you have a very expensive TFT, games and DVD's will look MUCH MUCH better on this CRT, i love it!