The Silver Screen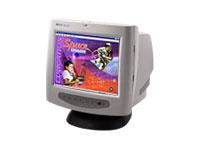 So my ACER flat screen monitor at work gave up the ghost last week and Bob the IT Donut said that I could have a replacement flatscreen monitor but it would take 7 - 10 days until it was here. In a sinister manner, he leaned forward and whispered in my ear: "follow me, Wayne". I picked up a pen with which to stab him in case things got a bit tasty and followed him out of the office.
We went a place in the basement affectionately called "the dungeon" and he showed me his wares! "Take your pick", Bob said as I surveyed the treasure before me. Keyboards, mice, computers, monitors piled dungeon ceiling high and standing room only!
I picked out a Hewlett Packard M50 monitor, which is very similar to the one I have at home, though with a slightly different spec.
I'm writing this review in a "non-teccie" style, and I hope you findd it helpful without being patronising.
WHAT'S THIS THEN?
It's a monitor - the device you're using at the moment to read this review on. The M50 as a product is about seven years old. However, the one in "the dungeon" appeared to be about 70 years old given the amount of dust it had accumulated! My one at home was bundled in with HP Pavilion 6712.
WHAT DO THE MANUFACTURERS SAY?
"The best way to see the true power of the HP Pavilion PC is with a high-impact, high-resolution HP Pavilion display.
Not only are they designed to look great and to work better with HP Pavilion PCs, but these technically advanced displays are super-easy to use and super-easy to customize based on your application needs and personal viewing style.
You can choose from three budget-fitting models, so buy an HP Pavilion display to complement your HP Pavilion PC.
You'll see the view is great. HP Pavillon M50, the one-touch display, tunes automatically and delivers the perfect picture on the15-inch display, the built-in speaker mounts give you a full-blown multimedia experience."
Well, that's all about right. It's not flatscreen, but given the above information that's certainly a truthful account of this product. The resolution's good for a fat monitor and the one at home has never given me headcahes.
AESTHETICS
The bulky, square models are ten a penny these days and you can pick one up for stupid prices at fairs and sales.
Back when this was first manufactured, in the era before flatscreens, this was quite a looker given the bland opposition. I don't mean the picture on-screen but the actual aesthetics and ergonomics of it.
I adore the look and feel of this monitor. It's monochrome in appearance which sounds boring, but isn't. I like the smooth and curvey edges rather than the rigid oldfashioned style. OK it's no Apple Mac, but you get the idea.
WHAT ARE THOSE FUNNY BUTTONS AT THE FRONT?
I have no idea, but that's because I've never had to use them and THAT'S because the factory settings on this monitor are so perfectly preset. For reference, I can take you through them, but bear in mind that I've never had to use them!
-contrast
-brightness
-vertical hold
-horizontal hold
-menu
Now, I've looked at the menu. I'm not a teccie person but I can understand the various settings it features. However, I didn't want to change any of the current settings but can report that the following are adequately catered for:
-colour
-language
-auto configure
-v and h hold
-brightness and contrast
-analog output
WHAT COMES WITH IT?
Not a great deal. There are speaker mounts to attach any complimenting speakers.
There are two downsides of this:
**Firstly they look like ears
**Secondly the quality of the speakers is pretty poor.
I like to play a lot of music and films on my PC and for this reason the tinny output does not serve my needs well. However, this is a speaker quibble and nothing to do with the monitor.
VERDICT
In a word, great.
However, it's an oldfashioned and bullky product given today's trend for smart looking flat screens.
I am unsure whether the M50 is still being manufactured. I would suggest that those in the market for a sturdy, reliable little monitor check out anything by Hewlett Packard. Good old Bob the IT Donut.
Thanks for reading!
PS Get my replacement flatscreen ACER on Monday. Yay!